Dr. Martin Luther King Jr. Community Celebration
Thursday, Jan. 19, 2023
Cost: $25
Check in: 8 a.m.
Program begins: 8:30 a.m.
Multi-Flex Theater, Snyder Academic Center
Join Indiana Tech in honoring the life and legacy of Dr. Martin Luther King Jr. This event is open to the entire community. Our keynote address will be delivered by Steve Pemberton, Chief Human Resources Officer at Workhuman and best-selling author.
Purchase Tickets on Eventbrite
Diversity Vanguard Award
During this celebration, we will also recognize our 2023 Diversity Vanguard Award recipients.
The Diversity Vanguard Award was created to celebrate individuals, departments and external organizations advancing initiatives which support diversity, equity, accessibility and inclusion at Indiana Tech. The award recipients must have proven themselves as changemakers in the area of inclusion and community support, as well as demonstrated a sensitivity to the unique needs and interests of marginalized populations.
In January, we will recognize our 2023 champions of diversity.
Our Keynote Speaker: Steve Pemberton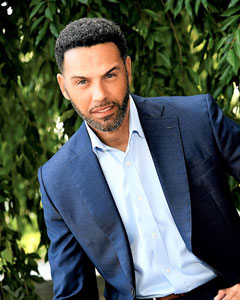 For Steve Pemberton, early life was anything but easy. Placed in unstable foster homes from the time he was three, he fell through the gaps of the foster care system — struggling to find safety, security, and some sense of family. And yet, this forgotten child not only managed to obtain all of those things but also has become a beacon — or as he likes to think of it, a lighthouse — for countless others.
Today, Pemberton is considered one of America's most inspiring business and HR leaders. As told in the major motion picture and his acclaimed, bestselling memoir, A Chance in the World, adversity only fueled his desire to become a man of incredible resilience, unyielding determination, and passionate vision. Pemberton went on to find success as a corporate executive, people leader, visionary youth advocate, and acclaimed speaker devoted to inspiring and helping others. He has been featured on some of the most recognizable media platforms in the country, including the Today show, CBS Evening News, and People magazine.
Recently, he celebrated his lighthouses, plus many others he met along his journey, in his latest book: The Lighthouse Effect: How Ordinary People Can Have an Extraordinary Impact in the World. It offers practical encouragement for how you can be a "human lighthouse" for others and suggests that you might already be having that impact. Through the inspiring stories Pemberton shares, he renews hope for humanity by reminding us that all is not lost.
A passionate human rights champion, Pemberton has made equality, access, and opportunity the foundation of his personal and professional life. His tireless advocacy for the disenfranchised has earned him numerous awards — including honorary doctorates from Winston-Salem State University, Providence College, and Boston College. He received the prestigious Horizon Award by the U.S. Congress, presented to private sector individuals who have expanded opportunities for all Americans through their own contributions and who have set exceptional examples for young people through their successes in life.
Today, Pemberton is the chief people officer of Workhuman. He champions and promotes the Workhuman movement to inspire HR leaders to embrace more humanity and foster a sense of purpose in the workplace. Before joining Workhuman, Pemberton served as the chief diversity officer for Walgreens Boots Alliance and Monster.com. A frequent presenter on Capitol Hill, in 2015, he was appointed by U.S. Secretary of Labor Thomas Perez to serve on the Advisory Committee for the Competitive Integrated Employment of People with Disabilities. Pemberton is also one of Recruiter.com Group, Inc.'s (OTCQB: RCRT) independent directors, which is a leading AI-powered and video hiring platform with the world's largest network of recruiters.