Dr. Martin Luther King Jr. Community Celebration
Thursday, Jan. 20
Cost: $20
Check in: 8 a.m.
Program begins: 8:30 a.m.
Multi-Flex Theater, Snyder Academic Center
Join Indiana Tech in honoring the life and legacy of Dr. Martin Luther King Jr. This event is open to the entire community. Our keynote address will be delivered by Cheryl Brown Henderson, Brown v. Board of Education of Topeka, Kansas, originator and civil rights activist.
Purchase Tickets on Eventbrite
Student Address
Wednesday, Jan. 19, 4:30 p.m.
Keynote speaker, Cheryl Brown Henderson, will lead a fireside chat with Indiana Tech students in the Magee-O'Connor Theater in Andorfer Commons.
Diversity Vanguard Award
During this celebration, we will also recognize our 2022 Diversity Vanguard Award recipients.
The Diversity Vanguard Award was created to celebrate individuals, departments and external organizations advancing initiatives which support diversity, equity, accessibility and inclusion at Indiana Tech. The award recipients must have proven themselves as changemakers in the area of inclusion and community support, as well as demonstrated a sensitivity to the unique needs and interests of marginalized populations.
In January, we will recognize our 2022 champions of diversity; Indiana Tech professor Michael Dunne-Steece and Fort Wayne Fire Department Captain Andrea Burton. These two individuals have greatly impacted our work to become a more equitable campus and community.
Opening Remarks: Karrah Herring
Karrah Herring, Indiana's first chief equity, inclusion and opportunity officer, will provide opening remarks on behalf of Governor Eric Holcomb.
Ms. Herring was chosen by Governor Holcomb's to be part of his cabinet on Nov. 19, 2020. She works with the governor and his team to improve state government operations as well as remove hurdles in the government workplace and within the services the state provides. Since beginning her role, she has engaged with more than 200 stakeholders, built the infrastructure of the office and, in conjunction with other agencies, rolled out the State of Indiana's first ever equity website and Equity Data Portal. Her team's two-year strategic plan will focus on equity in community, economic and workforce development.
Prior to joining Governor Holcomb's team, Ms. Herring worked for the University of Notre Dame for a decade as its Director of Public Affairs. She has a Bachelor of Arts in Communications/Public Relations from Purdue University and a Juris Doctorate from Valparaiso University School of Law.
Our Keynote Speaker: Cheryl Brown Henderson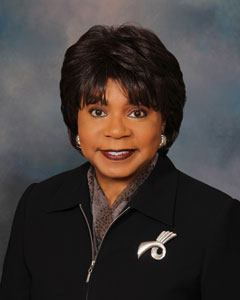 Ms. Brown Henderson is one of three daughters of the late Rev. Oliver L. Brown, who, along with 12 other parents in Topeka, Kansas, and led by attorneys for the NAACP, filed suit on behalf of their children against the local board of education. Their case joined with cases from Delaware, South Carolina, Virginia and Washington, D.C. on appeal to the U.S. Supreme Court and on May 17, 1954, became known as the landmark decision; Brown v. the Board of Education of Topeka, Kansas. With it, the Court ruled unanimously that U.S. state laws establishing racial segregation in public schools are unconstitutional. Rev. Brown died in 1961 before knowing the impact this case would have on the nation.
Ms. Brown Henderson is the founding president of The Brown Foundation for Educational Equity, Excellence and Research, and owner of Brown & Associates educational consulting firm. She has extensive background in education, business and civic leadership, having served on and chaired various local, state and national boards. In addition, she has two decades of experience in political advocacy, public policy implementation and federal legislative development.
Her education includes a bachelor's degree in elementary education, minor in mathematics from Baker University, Baldwin City, Kansas; a master's degree in guidance and counseling from Emporia State University, Emporia, Kansas; an honorary doctorate of humane letters from Washburn University; and an honorary doctorate of education from the University of South Florida. She is the recipient of various awards and recognitions for her work in education and community service and is known for her work with Congress and the National Park Service to preserve sites associated with the Brown v. the Board of Education of Topeka, Kansas, ruling.
In 1988, she founded the Brown Foundation. Since its establishment, the foundation has provided scholarships to more than 100 minority students; presented awards to local, state and national leaders; established libraries for children in low-income communities; developed curriculum on Brown v. the Board of Education for educators across the country; created traveling exhibits a website on Brown v. the Board of Education; and sponsored programs on diversity and educational issues for thousands of people. In 1990, under her leadership, the foundation successfully worked with the U.S. Congress to establish the Brown v. the Board of Education National Park in Topeka, which opened in May 2004. In 2001, under her leadership, the foundation successfully worked with the U.S. Congress to establish the Brown v. the Board of Education 50th Anniversary Presidential Commission, which served to provide a federal presence in the 2004 anniversary of the Brown decision.